Harry Potter and Philosophy: If Aristotle Ran Hogwarts
Edited by David Baggett and Shawn Klein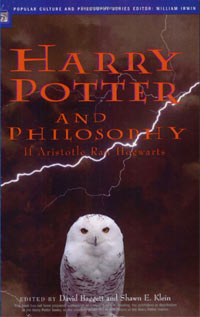 You don't need a diploma in arithmancy, the friendship of a hippogriff, or even a Hogwarts Library card to discover amazing and arcane secrets in the labyrinthine world of Harry Potter.
In the book you now hold in your hands (or for more advanced students, the book you have levitated into a suitable position while you feed snacks to your owl), seventeen philosophical scholars unlock some of Hogwarts' secret panels, displaying fresh insights enlightening both for sorcerers and for the more discerning Muggles.
Among the occult lore here revealed, behold the best recipe for true courage, proof that self-deception does not yield happiness, how ethics can be applied to the branch of technology known as magic, why the Mirror of Erised isn't adequate for real life, whether prophecy rules out free choice, and what dementors and boggarts can teach us about joy, fear, and the soul.
All the pages of this book are acid-free and have been individually bewitched with an anti-befuddlement incantation. Don't forget to keep your wand primed and read between the lines. Failure to observe these precautions may invite the malign influence of Vol-sorry, He Who Must Not Be Named.
"Harry Potter and Philosophy is the most enjoyable HP spin-off I've read-and I've read most of them. Some chapters are so full of good reflections, clear thinking, and reliable scholarship, I couldn't resist reading entire passages aloud. Our family plans to read these thought-provoking essays at the dinner table, sparking intelligent conversation with our teen- and college-aged children-Harry Potter fans all." -Connie Neal Author of The Gospel According to Harry Potter
"With insight, humor, and a style and structure true to the world and characters of Hogwarts, David Baggett and Shawn Klein have compiled a wonderful, stimulating book of philosophical insights. From the Slytherins and ambition-as-virtue to feminism and the women of Hogwarts, readers will enjoy stretching beyond the normal boundaries of Muggles' classrooms." -Roderic Owen Professor of Philosophy, Mary Baldwin College
"Even Muggles who see Harry's adventures as only stories or who find little value in popular culture will learn something from Harry Potter and Philosophy. The book is a wonderful selection of essays written from a variety of perspectives. Invariably the contributors are knowledgeable, perceptive, and inspiring." -Edmund M. Kern Author of The Wisdom of Harry Potter
About the authors: David Baggett and Shawn Klein are both teachers of philosophy, respectively at King's College, Pennsylvania, and Arizona State University. David travels the train stations of the world with an eye out for fractional platform numbers, while Shawn hopes to see his favorite Boston Quidditch team win the World Cup.
/******************************* HTML GENERATION END *******************************/ include $to_root_level.'scripts/html/body_end.php'; ?>