The Way of the Wizard
by Deepak Chopra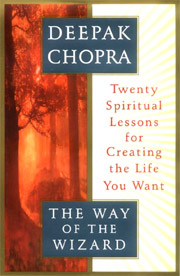 From back-cover:
Following in the footsteps of Deepak Chopra's million-copy best seller The Seven Spiritual Laws of Success comes a startling perspective, life-altering book in the form of a quest for people who feel there is something elusive and missing from their lives.
The Way of the Wizard contains twenty spiritual lessons that help the reader create a new and better life - a life that we all want but have trouble charting a course toward.
The Way of the Wizard provides the key to achieving love, personal fulfilment, and spiritual connectedness. Read this book and be prepared to see all of your previous conceptions about success and happiness transformed. Move from a life dominated by the ego and all of our struggles to a freer life that encompasses and makes room for the miraculous.
Reviews and more information from Amazon »
/******************************* HTML GENERATION END *******************************/ include $to_root_level.'scripts/html/body_end.php'; ?>