Christian Rosenkreutz Anthology
by Paul M. Allen (Editor)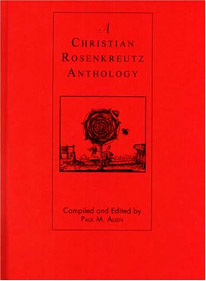 Book Summary:
This unique anthology presents a clear understanding of the life and work of Christian Rosenkreutz and his importance for our time. Setting aside the secrecy and exclusiveness that have obscured the true Rosicrucian stream, this book offers each reader a method of creative thinking that artistically unites reason and revelation in completely modern terms.
Here we find what are considered "Rosicrucian" writings, including "The Chymical Wedding of Christian Rosenkreutz," the Fama," and "Confessio." These important writings are expanded by some of the most eminent authors in this field: Robert Fludd, Thomas Vaughan, Hinricus Madathanus, Daniel Stolcius, Heinrich Khunrath, Rudolf Steiner, and others.
The "Secret Symbols of the Rosicrucians," one of the most prized and exceedingly rare of the Rosicrucian works, is reproduced here in its entirety. A broad selection of other unusual Rosicrucian illustrations and facsimiles also contribute to the richness of this anthology.
Here is the fruit of seven years preparation and careful research. Includes extensive editorial and reference notes and a catalog of the most valuable Rosicrucian sources. This is one of the most extensive and practical aids available for studying this fascinating Western spiritual tradition.
Reviews and more information from Amazon »
/******************************* HTML GENERATION END *******************************/ include $to_root_level.'scripts/html/body_end.php'; ?>