The Rosicrucian Cosmo-Conception (1922)
by Max Heindel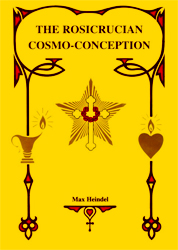 From Book Introduction:
The Western world is undoubtedly the vanguard of the human race, and, for reasons given in the following pages, it is held by the Rosicrucian that neither Judaism nor "popular Christianity", but true esoteric Christianity is to be its world-religion.
Buddha, great, grand and sublime, may be the "Light of Asia," but Christ will yet be acknowledged the "Light of the World." As the sun outshines the brightest star in the heavens, dispels every vestige of darkness and gives life to all beings, so, in a not too distant future, will the true religion of Christ supersede and obliterate all other religions, to the eternal benefit of mankind...
Reviews and more information from Amazon »
/******************************* HTML GENERATION END *******************************/ include $to_root_level.'scripts/html/body_end.php'; ?>